Artist: J.D. Moore 
Hometown: Dallas
Title of Work: Resilient Life
Being resilient is a common thread in J.D. Moore's art.
So it's not surprising that the Dallas-based artist and tattooist intertwined the enduring influence of the Trinity River, the Trumpet Vine and Black women together as subjects in his mural.
"It's a piece that is dedicated to nature and the idea of being resilient in life … the life of the flower being resilient … the life of a Black woman being resilient," Moore said.
Moore, a Rowlett High School graduate, has been an artist since 2013. While he's not classically-trained, Moore has studied overseas, including a month-long residency in Tuscany on fresco painting. He said he's been influenced by Renaissance sculptors and painters.
For "Resilient Life," Moore said he was particularly inspired by Italian sculptor Gian Lorenzo Bernini, who is known for showing emotion, movement and drama in his work.
Using his sister Jayla as a model for Mother Nature and as a representation of all Black women, Moore decided to wrap her in rippling burgundy robes while standing in water. Flowing from her breasts are golden rays of sunshine that transform into the frames of a stained-glass window.
Stained glass window frames are recurrent themes in Moore's work, too. Leaves wrap around the woman's head like a halo.
"I grew up around a religious center and I was inspired by the Renaissance so the stained glass (reflects) the regalness and spiritual nature of the piece," Moore said. 
Moore picked the Trumpet Vine to wrap around the stained-glass frame because it is a perennial that survives in harsh conditions only to bloom and thrive in the Spring. Some may call it invasive, but it doesn't take away from "its strong and hardy nature," Moore said.
In the end, Moore wants the mural to change people's attitudes toward Black women.    
"Like the perennial Trumpet Vine, they thrive in the spring and survive harsh winters. It is my hope that over time this depiction will influence the audience to see and ultimately treat Black women with the reverence they deserve," Moore said.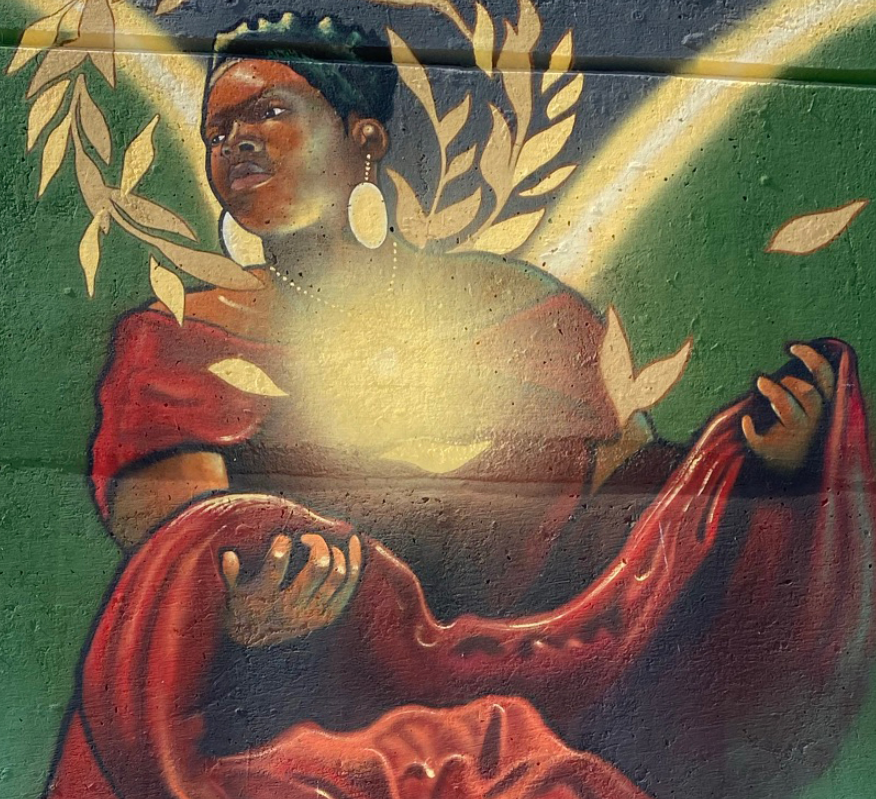 Next time you're out on the trails, keep your eyes open for the colorful creations popping up along the river. You can also follow @TrinityTrails on Instagram to see more pictures of completed and in-progress structures!
Are you interested in staying connected with the Painting the River project? Sign-up for our newsletter and learn about new murals and the project each week.