Artist: Robert Burns 
Hometown: Memphis, Tenn.
Title of work: Recess
Floating islands. Flying turtles. A monster-size heron being ridden by a little girl. Fanciful, free-standing waterfalls. All of these are a part of the fantasy world created by artist Robert Burns for his Trinity Trails gallery piece, "Recess."
Burns, an illustrator from Memphis, invented this dreamlike world to encourage viewers to feel a spirit of exploration and appreciation of their everyday environment. People tend to categorize things to help them navigate the world, robbing them of the opportunity to feel joy, he said.    
"Let your imagination go! It is sort of an invitation to look at the area around them and re-contextualize their environment into something more fantastic," Burns said. "It encourages them to be more meditative about the environment they are in."
Trained in sequential art at the Memphis College of Art, Burns is inspired by comic book artists and illustrators, especially Sergio Toppi and Tomer Hanuka. He grew up reading dark, adult-themed comics like those in the DC Vertigo universe.
But in "Recess" Burns takes a more light-hearted approach to creating a community of kids playing around the river during time out. (It's a more complicated version of the playful world depicted by his Memphis colleague Zach Kremer for his Trinity Trail mural "Bulldog Rodeo.")
There's a Tom Sawyer-like boy wearing a floppy hat while fishing. Two girls are climbing off the back of a huge, flying turtle. Then there's the girl – her hair flapping in the wind – as she holds onto the head of a gargantuan, flying heron. All of them are enjoying the river, and the day.
The animals he creates are larger than life, but not as interesting as the real thing, he said.
"Trinity Trails is already like this fantasy world if we would just pay attention. With my mural I want to help that process along and show some perspective so that they might view something that you would categorize and set aside," Burns said.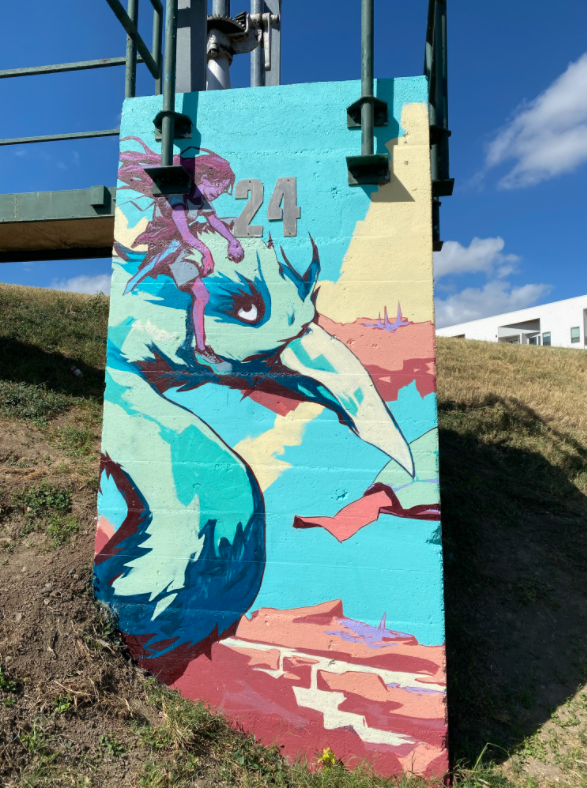 Next time you're out on the trails, keep your eyes open for the colorful creations popping up along the river. You can also follow @TrinityTrails on Instagram to see more pictures of completed and in-progress structures!
Are you interested in staying connected with the Painting the River project? Sign-up for our newsletter and learn about new murals and the project each week.