COX RACING SERVICES HELL'S HALF ACRE HALF MARATHON, 10K & 5K
July 10, 2021 @ 6:00 pm

-

July 11, 2021 @ 4:00 am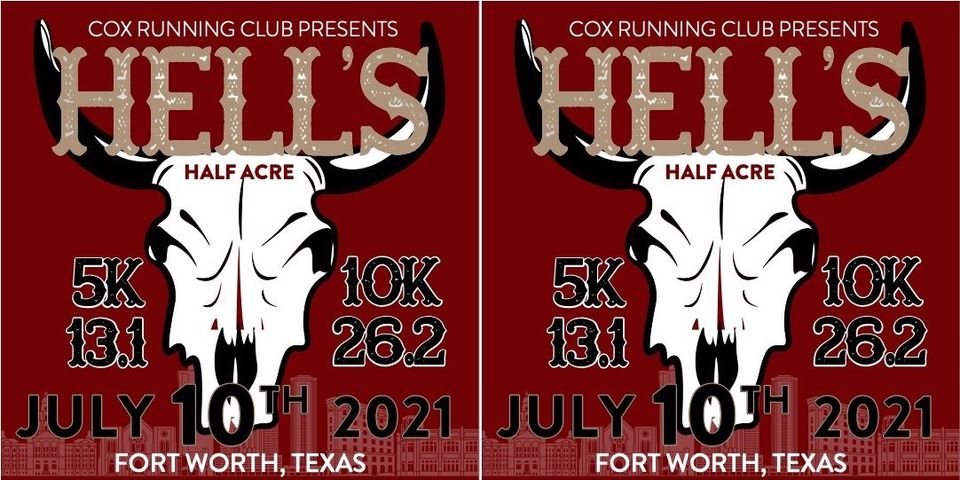 WHAT, WHEN, WHERE
5th Annual Cox Running Club Hell's Half Acre
Saturday, July 10, 2021 (through Sunday, July 11, 2020)
Woodshed Smokehouse
3201 Riverfront Dr
Fort Worth TX 76107
10K & 5K Course is a 5K out-and-back – one lap for the 5K, two laps for 10K
Half Marathon/Full Marathon is a 3.275 mile out-and-back – 4 laps for the Half Marathon, 8 laps for the Full Marathon
STARTING TIMES
* 5K (3.1 Miles) – 7:30 PM
* 5K (3.1 Miles) – 7:30 PM
* Half Marathon (13.1 Miles) – 10:00 PM
* Full Marathon (26.2 Miles) – 10:00 PM
RACE DAY PACKET PICKUP BEGINS AT 6:00 PM AT RACE SITE.
COST
Due to permits, etc. this race is limited to 500 participants total for the 5K & 10K! The cap for the Half Marathon & Full Marathon is 500 participants as well. Pricing is on a "tier" basis. The earlier you get in, the less you pay!
Disclaimer: Events not produced by TRWD or the City of Fort Worth have been approved and issued a permit, which allows the use of the Trinity Trails, City of Fort Worth Parks and other TRWD assets as denoted in their permit. These events are not affiliated with TRWD or the City of Fort Worth, nor do they express the views or mission of the district or City of Fort Worth. This calendar is meant to be a community resource for upcoming events and general trail traffic awareness and is subject to change.